Owl moved on after blocking Bracknell road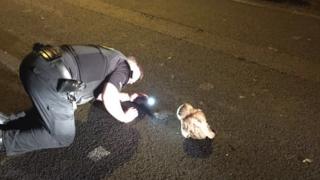 An owl was moved on by police after being found sitting in the middle of a road in Berkshire.
A social media post shows officers on night shift dealing with the bird after it was found in the middle of a road in Bracknell.
"Officers had a hoot last night removing this offender from obstructing a highway," it said.
The bird was "responsive and uninjured" and was moved to a safe place on advice from the RSPCA.
"After some initial resistance and failure to comply, PC Justin Barton took him under his wing and showed him to the side of the road to carry on his journey," police said.