Man shot in the chest at Windsor racecourse music festival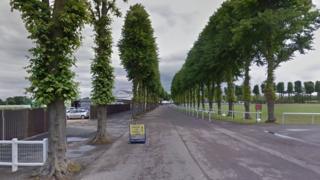 A man was shot in the chest in the VIP tent at Royal Windsor Racecourse during a dance music festival.
The 27-year-old victim was attending the Tea Party Festival on Saturday when he noticed a "disturbance" on the dance floor at about 20:30 BST, police said.
He heard a quiet "cap gun" sound and realised he had sustained an injury to his chest, a spokesman added.
Det Con Tom Parker appealed to anyone with photographs or video footage of the shooting to come forward.
He said: "This occurred when the VIP tent would have been busy, so if you were there and took a photo you may have captured the incident."
The victim was taken to hospital where he remains in a stable condition.
The suspect is described as a black man, who is believed to be in his thirties.