Reading man is Ice Cream Man of the Year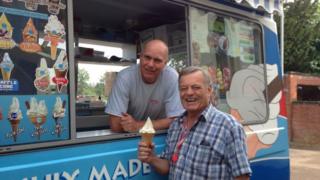 A man who has been selling ice cream for over 35 years has been voted Ice Cream Man of the Year.
Paul Field, from Reading, scooped the prize for "Mobiler of the Year" at the Ice Cream Alliance awards.
Mr Field's firm - Maurice's Ice Cream - has served a number of famous faces, including Theresa May, Princes William and Harry, and DJ Tony Blackburn.
Speaking after the event in Harrogate, Paul said he was "absolutely delighted".
"Being ice cream man of the year is an absolute honour," he said.
"The competition board didn't seem too bothered when I mentioned I had served the Prime Minister and royalty.
"But when I showed them the picture of me serving Tony Blackburn, I think they were impressed. I think that's what did it."
Paul, who began working as an ice cream man in 1982, said he was "proud" to be from Reading.
"I've won it for the Reading people. Thirty-five years they have supported me. I've seen the people grow up and have children, and now their children have children. I'm really proud of their support."
Paul beat off competition from Georgia Alston of West Sussex and Karl Simcock from Stafford.
The winner is selected after a judgement on the quality of the ice cream, the ice cream van, sales and events.