Trident faces 'adverse impact' from union action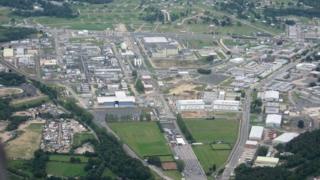 Industrial action is having an "adverse impact" on the UK's nuclear weapons programme, a union has claimed.
About 600 Unite members at the Atomic Weapons Establishment, which builds Britain's Trident warheads, have staged a series of walkouts over pensions.
The union said the action should give AWE "extra impetus" to resolve the dispute and on Wednesday announced plans for a further eight-day strike.
AWE said the action would not have a "material impact" on Trident.
"We have undertaken detailed contingency planning and have resilient measures in place," a spokesman said.
'Very competitive'
The row centres on claims that workers at the company, based at sites in Burghfield and Aldermaston in Berkshire, were left worse off after their pension scheme was moved to the private sector in the 1990s.
Unite regional officer Bob Middleton said members had been "betrayed" and that the dispute could be resolved if workers were allowed to join the Principal Civil Service Pension Scheme.
He said: "We believe that the continuing strike action is adversely impacting on the Trident nuclear programme, which should give the management extra impetus to resolve this dispute."
An AWE spokesman said the current pension scheme was "very competitive" and that "improvements have been made".
Members of Prospect union accepted the changes in February. They held a one-day strike last year.
Unite said it would meet AWE managers later for further talks.