Lydia Simmons: First female black Mayor honoured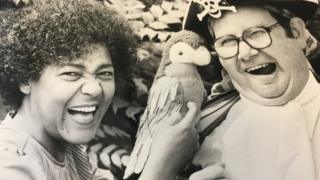 The UK's first female black Mayor will have a council flat development built in her honour.
Lydia Simmons, 70, became Mayor of Slough in 1984.
Lydia Court, a development of 11 new council homes will be built on the site of the old Eschle Court, Elliman Avenue, Slough.
Ms Simmons said it was "really lovely" to have a a development named after her. "Council housing is vital to the community in Slough," she said.
Ms Simmons was born in Montserrat in the Caribbean in 1938 and came to Slough in 1960 when she was 17. She served as a councillor from 1979 to 1994 and from 1999 to 2007.