Reading helicopter crash pair 'extremely lucky'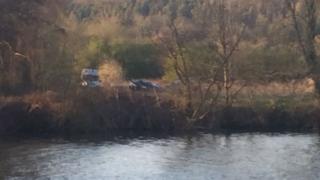 A helicopter pilot and passenger had an "extremely lucky" escape after it crashed near Reading.
The aircraft narrowly missed two houses and overhead power cables after the pilot lost control, close to the River Thames.
The men suffered only minor injuries in the crash on the Mapledurham estate, just before 18:00 GMT on Friday.
Royal Berkshire Fire and Rescue Service said they managed to climb out of the wreckage.
The helicopter ended up on its side on wasteland, with the tail and rotors separated from the body of the aircraft.
'Loud thud'
Group manager Paul Jones, said: "They were extremely lucky - it's very rare for people to get out of helicopter crashes alive, they normally come down at a rate of knots.
"It was in distress and the pilot managed to get it down to 20-40m and then came down, turning the helicopter over. They were very, very lucky to get out alive."
Witness Luke Howroyd said the aircraft had been flying low and circling a playing field.
"It started to look like it was coming into land, it then went below the tree line but we could see it go into a spin, next we heard a loud thud," he said.
"We ran over and saw it was laying on its side, it was on the opposite side of the river to us but we could see someone over there and shouted if everyone got out OK, they gave us a thumbs up. Luckily there was no fire."
A spokeswoman for South Central Ambulance Service said the two men on board sustained minor injuries and did not require hospital treatment.