Reading magistrate 'abused boy in underground car park'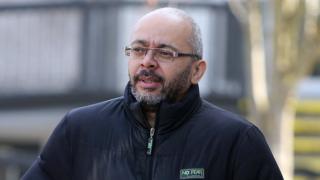 A magistrate has gone on trial accused of sexually assaulting an 11-year-old boy in a car park beneath the court house he sat in.
Rodney Fox, 49, used his special privileges to access Reading Magistrates' underground car park in order to molest the child, a court heard.
He is accused of sexual assault on a boy under 13, causing or inciting a child to engage in sexual activity and making indecent photographs of a child.
Mr Fox denies all of the charges.
St Albans Crown Court heard that the defendant befriended the boy and would buy him lunch on Saturdays before driving him to the empty car park.
Samantha Cohen, prosecuting, said that Mr Fox started by kissing the boy in his car before later performing a sex act on him.
The court heard that Mr Fox, of Northumberland Avenue, Reading, allegedly committed the offences between October 2013 and October 2014.
Ms Cohen said the boy told a teacher about the alleged offences in November 2015, and the police were called.
The trial continues.