Royal Lancers renamed by Queen at Windsor Castle ceremony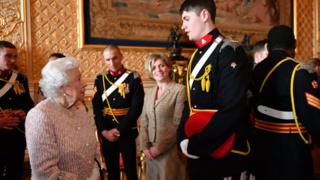 The Royals Lancers have been renamed by the Queen in tribute to their service to the Royal Family.
The British Army regiment were thanked for their "loyalty and devotion" to the Queen and her mother, Queen Elizabeth the Queen Mother.
The monarch granted the armoured cavalry regiment a suffix, making them "The Royal Lancers - Queen Elizabeths' Own" at a ceremony at Windsor Castle.
The Queen said the Lancers were a "force without match".
She symbolically touched the flag known as a Guidon to signal its handover.
"In the short time since I attended your amalgamation, you have established yourselves as a unified regiment and a force without match", the Queen said.
"It gives me much pleasure to present to you your new Guidon. The Guidon symbolises sacred loyalty to your Sovereign, your country and to all of the officers and men with whom you serve.
"Your loyalty and devotion to duty have been tested over more than 300 years and never found to be wanting."
The Queen's Royal Lancers and the 9th/12th Royal (Prince of Wales's), amalgamated to become The Royal Lancers in May 2015.
The 9th/12th Lancers were the last cavalry regiment in Afghanistan and The Queen's Royal Lancers the last regiment to operate Combat Vehicle Reconnaissance in Afghanistan.