Dog-on-horse attack in Wokingham sparks call for law change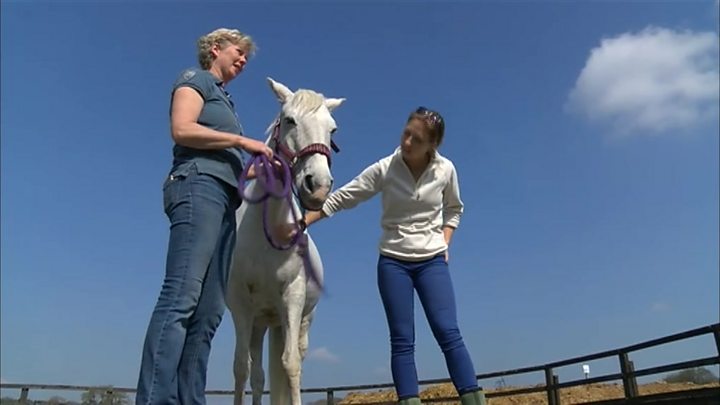 The owners of a horse that nearly died in a dog attack have started a petition calling for stricter animal laws.
Anna Bunton's mare, Mo, was bitten on the neck and stomach by a Staffordshire Bull Terrier in New Mill Lane in Wokingham, Berkshire, in February.
The dog, that was off its lead, then attacked Ms Bunton and cut her while trying to bite through her boots.
A second horse in the group was also badly bitten on the leg but police said no criminal offence had occurred.
Ms Bunton is now calling for laws on animal-on-animal attacks to be tightened. Specifically she wants the government to "lessen the ambiguity surrounding animal-on-animal attacks".
'Wild animal'
She told the BBC she had been walking with Mo on 15 February when the dog "turned into a wild animal" and "went for Mo's jugular".
Mo required surgery lasting more than six hours and another horse that was attacked by the same dog moments later also suffered deep cuts.
Ms Bunton's daughter Emily started an online petition on Tuesday which had been signed more than 1,200 times by Friday morning and needs 100,000 signatures before it can be considered for debate in parliament.
Emily Bunton said: "I want there to be a tightening and revaluation of the laws.
"[The attack] was in a public place - an animal was injured, a human was injured and the owners were allowed to walk away from it with no punishment."
Thames Valley Police said officers investigated and it was established that no criminal offence had occurred.