Victorian cottages 'destroyed' by HGVs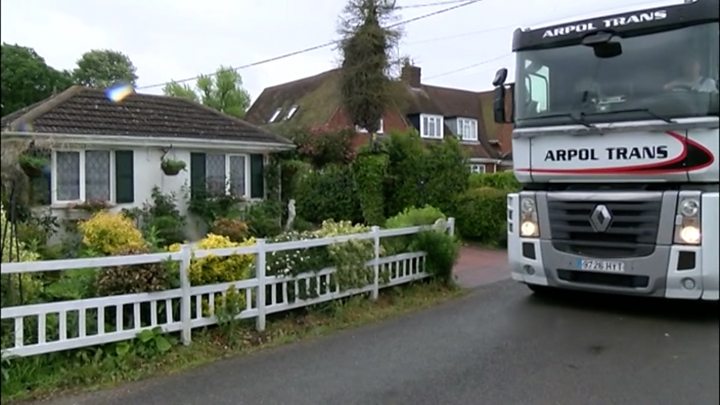 People living in a Berkshire village claim their homes are being destroyed by lorries driving past on their way to businesses nearby.
They say large cracks are appearing in the walls of the Victorian cottages where they live.
One pensioner says his house is so badly affected he will have to move out and sleep in his pick-up truck.
Wokingham Borough Council says it has posted an advisory notice warning HGVs not to use Trowe's Lane.
It has also suggested an alternative route for the HGV drivers who need to access the nearby Valley Produce herb farm on a daily basis.
However, this involves a three-mile detour, which is not signposted to drivers.
Lorries started using Trowe's Lane in Swallowfield after a turning ban was placed in Charlton Lane in 2014 over safety concerns.
The managing director of Valley Produce, Colin Hill, said Wokingham Council had originally told him his lorry drivers should use the Trowe's Lane route.
He said: "It's only very recently they took down the sign directing lorries down here and put one up saying it's unsuitable."
Ray Tormey, a home owner in Trowe's Lane said: "It is only a matter of weeks before the walls are penetrated and I'll have to move out.
"I've got nowhere else to move to. I'm a 75-year-old pensioner, I live on my own, I've got no family.
"I'll be sleeping in my pick-up truck in the garden."
Bob Richards said: "You can see the cracks in my house.
"This road is just not built for these lorries."