Revamped Slough ice rink opening delayed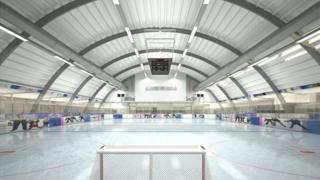 An ice rink used to train contestants for ITV's Dancing on Ice is to reopen in March 2018 after a £7.7m refit.
Slough Ice Arena, which was built in 1986, closed in November 2016 after the borough council said it was in a "shabby state".
The authority originally hoped the ice rink would open in December 2017, with an extension complete in April 2018.
A spokeswoman said opening the whole complex at the same time would mean less inconvenience for skaters.
Skaters and the town's ice hockey team, Slough Jets, currently use a temporary rink in a car park behind nearby Montem Leisure Centre.