Reading children's centres recommended for closure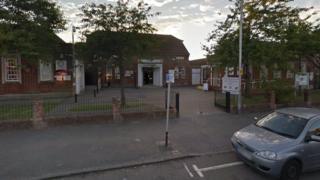 More than half of Reading's children's centres are set to close as the borough council looks to save £400,000.
The authority said it wanted to help the most vulnerable families instead of being a "universal service for all".
It plans to close seven of its 13 centres in favour of four "hubs" and three "satellite buildings" - incorporating health visiting and community maternity services.
A decision on the recommendations is due to be made on 6 June.
The move follows a three-month public consultation which saw 400 responses and two petitions received.
Centres 'saved me'
Signatory Beverley Richardson, from Reading, described the centres as a "vital" resource for parents and children.
"We should be investing in their future not destroying it," she said.
Danyelle Tovey added: "These saved me from post-natal depression and isolation."
The proposed hubs are Ranikhet Children's Centre, Southcote Children's Centre, Sun Street Children's Centre and Whitley Children's Centre, with so-called satellite buildings at Caversham Children's Centre, Battle Library and Coley Children's Centre.
If the plans are agreed Reading Borough Council said universal services for children over the age of one would cease from September.
A "phased implementation" of maternity and health visiting services would begin in September and be completed by 2019, it added.
The authority has also warned the centre closures would result in staff redundancies, which would be subject to a further consultation.
Councillor Jan Gavin, lead member for children's services, said: "There are already a large number of good toddler activity groups available for families with children under five in Reading and the council will work with partners in the voluntary sector to explore the possible provision of other family services within the children's centre buildings."