West Berkshire Council issues error-laden poll cards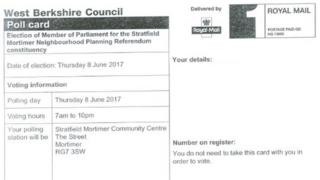 A "printing error" led to poll cards for a village referendum incorrectly referring to the general election and stating an incorrect date.
West Berkshire Council sent the cards to Stratfield Mortimer residents ahead of a vote on a neighbourhood plan.
The card was titled: "Election of Member of Parliament for the Stratfield Mortimer Neighbourhood Planning Referendum constituency".
It also said the vote would be on 8 June, when it is actually on 22 June.
In a statement, the authority apologised to residents "for the inconvenience caused by the error".
"West Berkshire Council was not responsible for the error and the cost of re-issuing the poll cards will be met by the printers," the statement added.