Prince Andrew attends Falklands War anniversary service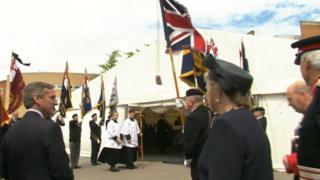 The Duke of York has joined other Falklands veterans at a service to mark the 35th anniversary of the end of the conflict.
Prince Andrew, who was a Royal Navy helicopter pilot in the war, paid his respects at the chapel of Pangbourne College in Berkshire.
The service was relayed on screens outside the chapel, to allow 870 veterans and relatives to take part.
Britain accepted the Argentine surrender on 14 June 1982.
Among those in the congregation was Ellie Smith, whose husband Petty Officer Ben Casey was one of the first servicemen to be killed in the conflict.
She said: "My husband always said he loved fighting for what was right. I have a lot of love and a lot of pride in my heart."
Another attendee, Rear Admiral Jeremy Sanders said: "It did get quite close because ships were getting tired, ammunition was constantly having to be resupplied."