Pilot uninjured after crash at Brimpton Airfield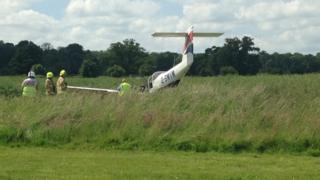 A pilot escaped uninjured after the light aircraft he was flying overran the runway on take-off, police said.
Emergency services were called to Brimpton Airfield in Berkshire at 11:26 BST following reports of the crash.
The male pilot was able to free himself from the single-engine aircraft before firefighters arrived at the scene, Thames Valley Police said.
An Air Accidents Investigation Branch spokesman said: "We are aware of the incident and are investigating."
Royal Berkshire Fire and Rescue Service confirmed the scene had now been made safe.