Jaundice baby boy's £9m award from Berkshire hospital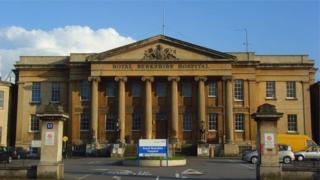 A baby boy who became jaundiced and suffered a "catastrophic brain injury" in hospital will receive a £9m damages payout.
The Royal Berkshire Hospital arranged to check a family history of jaundice when the six-year-old was born in 2010.
Medics felt he could be discharged, but the child returned to hospital four days later suffering brain damage.
Royal Berkshire NHS Foundation Trust accepted being "at fault" at a hearing at the High Court on Monday.
The boy was left with "very serious disabilities" and is "wholly dependent" on others for care and support, Mr Justice Foskett said in court.
He added the child is "happy" and enjoys music and the company of others.
The child was in "good condition" when delivered and, despite "some slight concerns" from doctors, was sent home to his family.
But his parents became increasingly concerned that he was becoming jaundiced and returned to the hospital, after which he sustained serious brain damage.
Royal Berkshire NHS Foundation Trust "accepted liability for the consequences" in not arranging for a further assessment of his condition after his discharge from hospital.
His parents were also not given adequate advice about how to recognise the onset of jaundice.
Settling the case, the NHS trust agreed to pay the boy a lump-sum of just under £3.8m.
It will also make index-linked, tax-free annual payments to cover the costs of his care for the rest of his life.
Melissa Gardner, representing the child, said the family was "let down in the worst possible way".
She said: "I am delighted that the family will now have access to the help they need to provide for his extremely severe disabilities."
Barrister Angus Moon QC apologised in open court on behalf of the NHS trust and paid tribute to the parents' selfless care for their son.