Kraftwerk artist to celebrate twinning of Reading and Düsseldorf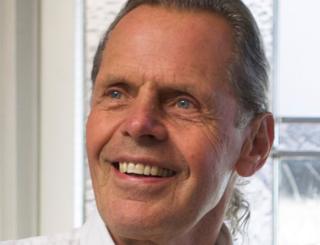 A former member of seminal German group Kraftwerk is coming to Reading to celebrate the town's 70th twinning anniversary with Düsseldorf.
The German city has spent about £35,000 bringing over a range of its artists to perform at the Reading Fringe Festival, including Emil Schult.
As well as being a musician, Schult created the visual designs for many of Kraftwerk's albums, including Autobahn.
Reading and Düsseldorf were twinned following the Second World War.
Fringe Festival producer Zsuzsi Lindsay said the town was "proud to be celebrating with Dusseldorf to mark 70 years of friendship".
She added: "At a time when there are so many uncertainties in the world, art brings us together, we forget our differences and we can truly celebrate our similarities."
BBC Berkshire is hosting a live music stage with two Düsseldorf bands, Love Machine and Aberrations, playing alongside Reading acts including recent Glastonbury performers Palm Honey and Matt Maltese.
Schult will give a talk about the music, art and human progress.
The Reading Fringe Festival runs from 19 to 23 July 2017.