Eight people hurt in Slough spray attack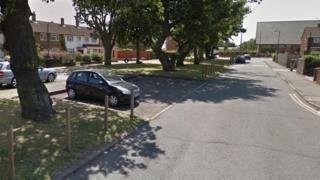 Eight people were taken to hospital after an "unknown substance" was sprayed through the window of a house.
A man wearing dark clothing sprayed the substance into a property on Skydmore Path in Slough before running away.
The victims - six females and two males ranging in age from 12 to 40 - were taken to hospital following the attack just after 17:00 BST on Sunday.
Thames Valley Police said it was not an acid attack.
South Central paramedics treated the victims for a range of issues, including breathing difficulties and vomiting.
They were taken to Wexham Park hospital in Berkshire as a precaution but did not suffer any serious injuries.
Berkshire Fire and Rescue Service also attended the scene.
The police are appealing for witnesses to come forward.