Royal Berkshire Hospital parking: staff 'could quit' over charges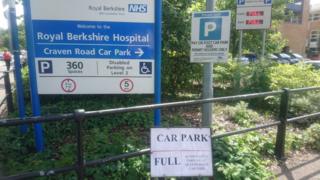 Hospital staff could leave their jobs if pay and display parking charges around a hospital are not changed, a midwife claims.
Reading Council plans to extend pay and display restrictions in spaces near Royal Berkshire Hospital to weekends.
Midwife and union representative Clare Goulbourn-Lay says the charges mean patients park in the hospital, preventing staff from getting spaces.
The scheme relieved "huge pressure" on residential parking, the council said.
Reading Borough Council introduced weekday pay and display charges for 625 spaces around the hospital in November 2016.
The council now wants to stop free parking at weekends despite continued opposition from residents and hospital staff about impact of the previous changes.
Mrs Goulborn-Lay said staff and patients, worried about getting a parking ticket, were having to leave home an hour earlier to find parking.
"From staff surveys, one of the issues that keeps coming up is parking," she added.
"Midwives have said to me: 'If I have to struggle to get a space, I will have to look for jobs elsewhere'."
Julie Lewers, from the Royal College of Nursing, believes issues with hospital staff parking are a "huge problem" across the country.
"There are 40,000 vacancies at any time, so if you're parking to pay in a hospital for 10 or 12 hours at a time, nurses will start looking elsewhere," she said.
Reading Borough Council said it had made the decision after a five-year consultation with residents in the area.
It added that "the location of the hospital - and the lack of parking provided by the hospital itself - brings with it huge pressure on limited residential parking spaces and this is just as significant on weekends as weekdays".