Future of Reading ReadyBike hire scheme secured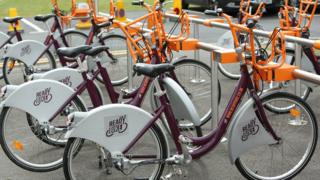 A public bike hire scheme has been saved from going bust after the scheme's operator said they will fund it without council subsidies.
Hourbike has won a new contract to manage and maintain the ReadyBike scheme in Reading for three years.
Reading Borough Council had said it would stop subsidising the scheme last year because of its high running costs.
The firm said but there were no plans to reduce the number of 200 bikes available.
ReadyBike was launched with a £1.2m government grant in 2014.
After that funding ran out, the council started spending £10,000-a-month to subsidise the scheme.
Hourbike had previously said that more sponsors were required to save ReadyBike, after the council announced they would withdraw their funding.
The firm said they were "delighted" to continue operating the scheme, which will see them "review the number of rentals at existing docking stations", but not cut the total of bicycles available.
That may include creating new locations for docking stations in West Reading.