People rehoused after crane topples in Reading town centre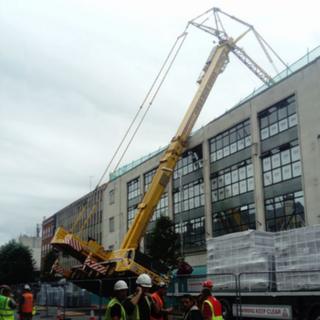 People were rehoused for the night and roads remain closed after a 60m crane overbalanced in a town centre.
Shops and 60 homes were evacuated after the crane toppled and came to rest against the former Primark building in Reading at 13:50 BST on Saturday.
The council has had to provide alternative accommodation for 49 people so far, with others staying with family or friends.
No-one has been reported injured.
The crane is being stabilised by Berkshire Fire Service and emergency services were at the scene in West Street overnight and will continue to be so into Sunday.
Fifty members of staff from emergency services and Reading Council remain at the scene.