Toppled Reading Primark crane removed in overnight operation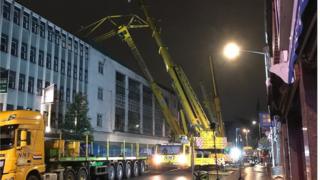 A crane that toppled on a former town centre Primark store has been removed.
Shops and 60 homes were evacuated after the 60m (197ft) jib landed on the vacant clothing shop in West Street, Reading, on Saturday afternoon.
Specialist engineers from the Netherlands assisted with the overnight operation, Reading council said.
BW Workplace Experts, which operates the crane, said it was assisting police and the Health and Safety Executive with their enquiries.
Police said the crane had been stabilised by fire crews on Sunday morning, and had initially predicted it could take "several days" to dismantle the structure.
The Health and Safety Executive has been informed.
No-one was injured in the incident.