Windsor taxi driver attacked with 'unknown substance'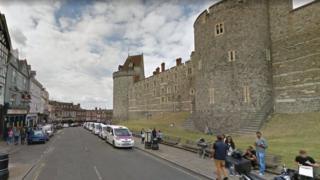 An "unknown substance" was thrown in the face of a taxi driver parked outside Windsor Castle, police have said.
The male victim was waiting for a fare in Thames Street with his window open when the attack happened shortly after 22:30 BST on Tuesday.
A white flatbed van drove past and the taxi driver felt a "burning sensation" as the liquid hit him.
The man washed the liquid away with water and was not seriously injured.
Thames Valley Police said the driver found damage to his vehicle's window seal caused by the substance.
Det Insp Jason Kew said he was "keeping an open mind" about possible motives.
"This was a distressing incident for the driver," he added.
"It was fortunate that he was not seriously injured."