'Whoops. Our bad': Slough council misspells road sign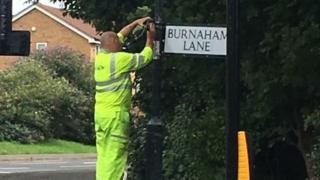 A sign for a main road has been spelled incorrectly by a council.
The road sign for Burnham Lane was installed by a Slough Borough Council worker and included an extra 'A', making it read "Burnaham Lane".
After the gaffe was pointed out on Twitter, the authority responded: "Whoops. Our bad. That will be coming right back down again!"
The council confirmed the sign would be removed and told the BBC it had no further comment to make.