Pledge to keep Reading Central Club's black culture mural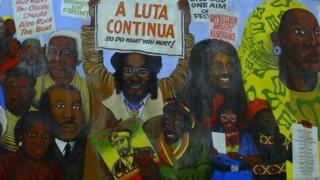 A council claims it has "absolutely no intention" of removing a "historically significant" mural celebrating black culture, amid fears for its future.
Reading council announced it was putting the town's Central Club up for sale on the open market after bids from community groups failed.
This prompted concerns the 27-year-old, 36m-long artwork on the side of the building could be scrapped.
But authority leader Jo Lovelock said the mural "must be preserved".
"There is absolutely no intention that the mural should disappear," she said.
The club, which had been at the heart of Reading's black community since 1978, has been closed since 2006 following a police drugs raid.
Community company Aspire offered to buy it at "fair market value" as part of a £10m investment package.
But Reading council said it needed a cash figure to be specified and elected to make the building available to any bidders, having initially invited interest from community groups only.
Mary Genis, who works for Aspire, said the mural demonstrated the "historical value of the contribution black people have made to Reading".
She said the council selling the building and mural risked seeing that "wiped out".
"The mural has significant historical value - everyone sees that regardless of colour, race, creed and age," she added.