Heatherwood Hospital green belt land plans approved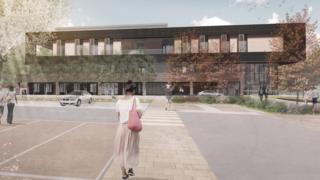 An NHS trust has been given approval to build a £90m hospital on green belt land despite planning officers warning the development would be "harmful".
Councillors gave permission for Heatherwood Hospital in Ascot to be demolished and relocated to nearby woodland at a meeting on Tuesday night.
Planners had recommended the proposal be refused, saying 3.66 hectares of "priority habitat" would be lost.
The NHS trust said it was "optimising the best use" of its land.
"If you are going to recover from surgery, there is nothing better than looking at a woodland environment for your recuperation," said Sir Andrew Morris, chief executive of Frimley Health NHS Foundation Trust.
Sir Andrew added the trust would "generate a slug of cash" from the development of the existing hospital into housing.
The trust had to argue there were "very special circumstances" to build on the green belt land, but planning officers claimed the case for this was "not justified".
More than 100 residents attended the Royal Borough of Windsor and Maidenhead meeting to watch councillors reject their own planning officers' recommendation.
The building of the new hospital, which will be used for planned procedures and feature six operating theatres and 70 beds, is expected to start early in 2018 and completed in 2020.