Two die in light aircraft crash near Shaftesbury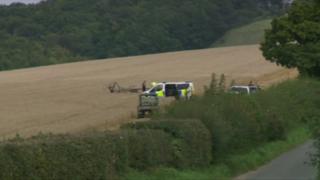 Two people have died in a light aircraft crash near an airfield in Dorset.
The plane came down east of Compton Abbas Airfield near Shaftesbury at 09.28 BST, police said.
The pilot, aged 64 from Blandford, and the passenger, aged 67, from Shaftesbury, were killed in the crash.
Dorset Police identified the plane as a Tiger Moth and the Air Accident Investigation Branch has sent a team to the area to start inquiries.