Reading storage unit rat infestation wrecks belongings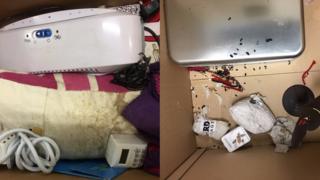 A couple has lost possessions worth £10,000 after rats infested a storage unit they had rented.
Neil and Emma Griffiths put their belongings, including wedding photos and mementos of a baby they lost, at Shurgard in Reading while moving house.
They discovered rodents had gnawed and soiled their personal effects when they went to unpack some boxes.
Shurgard apologised to the couple and said it has "stepped up" its pest control programme.
Mr Griffiths said the problem was first identified in June when he arrived to find their things "littered with droppings and fresh urine".
"I came to a box that had a hole gnawed in it. A few seconds later a big grey rat came out of the box and scuttled into the back of our unit," he said.
"People are storing stuff in there, and paying good money because they are items they care about. They believe it is going to be safe"
He said as well as clothes and household items, "irreplaceable" items such as wedding photos and toys and clothes belonging to a baby they lost were damaged.
A Shurgard spokesman said: "As soon as we became aware of this rodent infestation we stepped up the programme to resolve the issue.
"I understand that not all losses can be addressed through an insurance claim and Shurgard is very sorry that Mr Griffiths and his family had damaged items of sentimental value."
The company has emailed customers claiming "somebody is storing perishable food items" against their regulations at its Reading site, which has attracted vermin.
It said each storage unit will be examined to discover who was responsible.
Mr and Mrs Griffiths were insured and Shurgard said it had helped them with their claim.