Colnbrook woodland shooting: Man admits firearms offence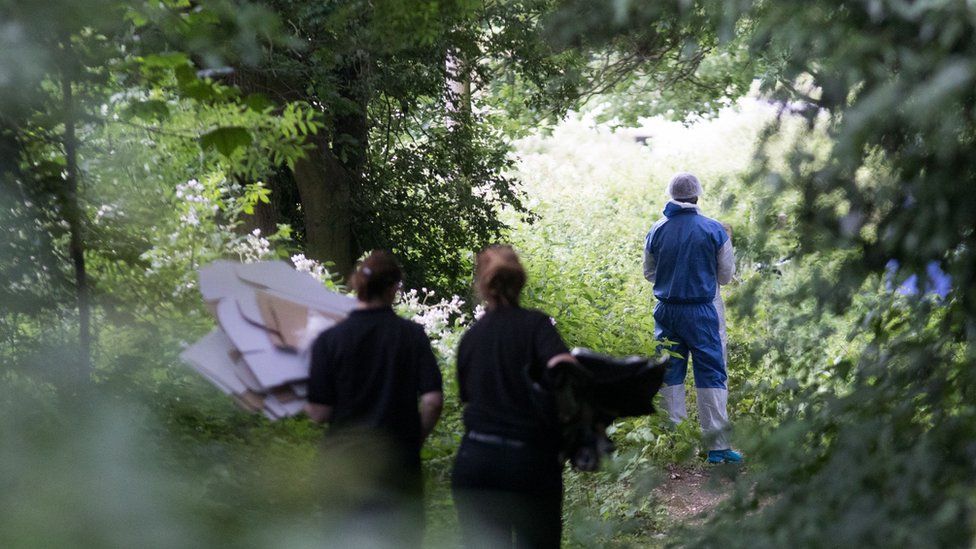 A pensioner who shot and killed a man trying to break into his home has pleaded guilty to possessing a firearm without a certificate.
Reuben Gregory, 72, fired a double-barrelled shotgun through a hole in the door of his caravan in woodland near Slough's Colnbrook Bypass on 12 June, Slough magistrates heard.
Wayne Digby, 48, was hit in the chest and died at the scene.
Gregory will be sentenced at Reading Crown Court at a date yet to be set.
The possession charge carries a maximum sentence of five years' imprisonment, the court was told.
The court heard Gregory had been woken in the early hours by the screams of his sister Kathleen, with whom he had shared a "frugal life" in a caravan only accessible by footpath since the 1960s.
They had no mains electricity, no water supply or access to a landline or mobile phone.
After hearing a disturbance outside Gregory opened fire with a shotgun while his sister armed herself with a knife.
The court heard Gregory went to get help after the shooting, dialling 999 from a borrowed mobile phone and telling police that "a gang" had tried to break in.
He later told officers: "Yes, I'm the one who's done it mate, I've been attacked at the caravan."
Gregory told officers that he bought the shotgun in the 1980s for self-defence after a previous break-in.
He claimed he had tried to get a certificate for the weapon but had been refused because the caravan was not deemed to be a secure place.
Police allegedly found a wooden mallet, cable ties, a bottle of bleach, a funnel and bolt crimpers in a bag lying near Mr Digby's body.
Officers discovered a plastic bottle full of an accelerant and a tennis ball full of flammable liquid and stuffed with a rag inside the caravan, the court was told.
Magistrate Martin Savage told Gregory: "This is a complex case with very tragic events.
"You knew you needed to have a shotgun certificate; you continued to keep this working weapon in your possession, loaded and specifically for self-defence.
"As a result of that, you actually took a man's life."
Gregory was granted unconditional bail.
Another man, Anthony Hearn, is due to stand trial on 27 November at Reading Crown Court, charged with conspiracy to commit aggravated burglary.
Related Internet Links
The BBC is not responsible for the content of external sites.