WhatsApp and YouTube terror video man jailed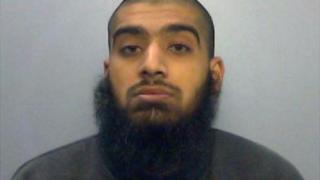 A man who filmed a drive-by video calling British soldiers "baby butchers of the Muslims" has been jailed for posting terrorist propaganda online.
Taha Hussain, from Slough, Berkshire, also made a film in Windsor, saying a statue of the Queen "will be toppled" like the one of Saddam Hussain in Iraq.
The 21-year-old was convicted of seven counts of disseminating terrorist publications on YouTube and WhatsApp.
He was jailed for four and a half-years at the Old Bailey in London.
Hussain, of Langtree Avenue, attended "road shows" and encouraged others to "prepare or commit acts of terror" in the two years before his arrest in August 2016, the trial at Kingston Crown Court previously heard.
He used a phone emblazoned with so-called Islamic State's black flag to post the videos.
In June 2016, he made a drive-by video around the area of Cavalry Barracks in Hounslow, where the 1st Battalion Irish Guards are based.
Hussain was heard to say: "We are outside the British barracks today, as you can see, the baby butchers of the Muslims."
The occupants of the car were heard to shout: "Allah is the greatest."
Another video filmed in a car driving around Windsor shows Hussain saying: "So you see the statue of the Queen here, like the statue of Saddam Hussein was toppled, so will the statue of the Queen."
He also distributed videos and audio files on topics that included attempting to justify the Charlie Hebdo murders and the Paris attacks in 2015.
The court heard Hussain has expressed remorse for his actions and a willingness to embark on a deradicalisation programme.
His defence counsel Frida Hussain said: "This is a young man who was immersed into a world of this nature from a very early age and (during) his formative years.
"It is not too late for this young man to turn his life around."
During sentencing, Judge Paul Dodgson described some of the evidence as "chilling", particularly in light of recent terror attacks in the UK.
Judge Dodgson said: "I can only hope that your public renouncement of the aims of Isis and its allies is genuine and will lead you to take a new direction in the way you observe your religion."