Windsor Racecourse hotel given go-ahead in green belt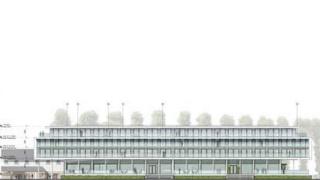 A 150-bed hotel is set to be built on green belt land at Windsor Racecourse despite claims it would be "harmful" to the area.
The new building in Berkshire will also be on a flood plain, which resulted in objections from the Environment Agency.
Highways England had argued the site had insufficient parking provision, but there were no residents' objections.
Councillors approved the plans, stating the "economic benefits of the scheme outweigh the harm to the green belt".
Agents for the racecourse set out in the report that there is "an existing and growing demand for hotel accommodation in the Windsor area".
Royal Borough of Windsor and Maidenhead councillors considered the visual impact of the hotel, which is in a countryside location by the River Thames, off Maidenhead Road.
They were told the "harm" to the green belt "should be accorded substantial weight" in their decision making.
Following the Environment Agency objection, planning officers said they were "satisfied" that raising the land level on the site would solve any flood risks.