Security guard's Tesco Reading roof protest ends after 21 hours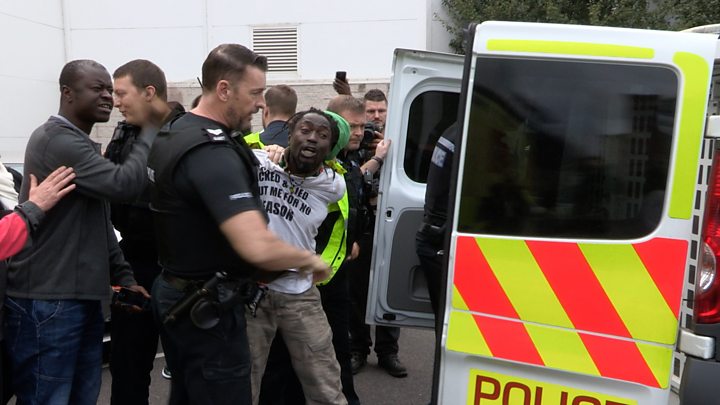 A sacked security guard's 21-hour protest in the roof space of a Tesco store has ended after he received a letter to review his dismissal.
Adama Jammeh climbed onto the girders above the checkouts in Tesco Extra, Reading, on Thursday evening.
In a series of Facebook videos, the 46-year-old said he was sacked after being wrongly accused of stealing.
In its letter, Tesco said evidence suggested Mr Jammeh may have suffered "a significant injustice".
The former guard was led out of the store by police shortly before 15:00 BST.
He was arrested on suspicion of public order offences, a Thames Valley Police spokesman said.
Shoppers had been told to abandon their trolleys and leave the store as Mr Jammeh climbed to the roof, with police confirming they had received reports concerning "the welfare of a man".
He claimed he was falsely accused of stealing electrical goods worth £20,000 by the supermarket chain, which led to his sacking by security firm Total Security Services (TSS).
The father-of-two has spent the past six months staging a one-man protest outside the Portman Road store with banners.
Mr Jammeh, originally from Gambia, said he had not slept and barely eaten since starting the protest at 18:00 on Thursday, and that he would only come down if Tesco issued an apology.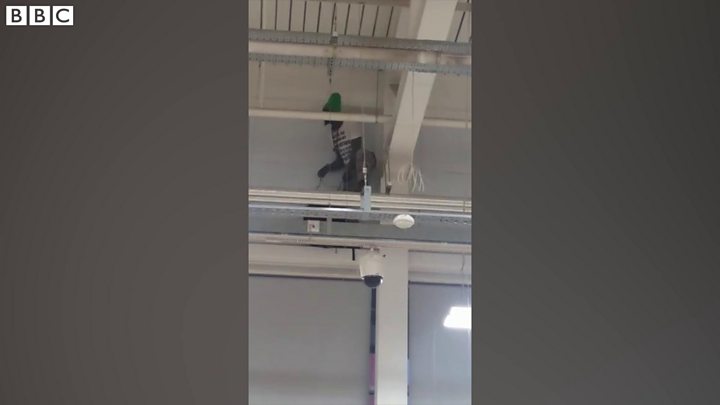 Mr Jammeh ended the protest after his wife told him he had received a letter from the supermarket saying the "circumstances of the situation" that led to his dismissal and protest would be "reviewed".
It added: "No formal proceedings involving yourself have been instigated which supports your view that you have been the subject of a significant injustice."
Mr Jammeh had earlier said he was "stressed and angry" and he was protesting because Tesco had "ignored" him.
A TSS spokesperson said it had been aware of the incident and had been assisting police and Tesco.
Thames Valley Police is yet to respond to claims of Mr Jammeh's innocence.