Reading black community group in 'racial tension' row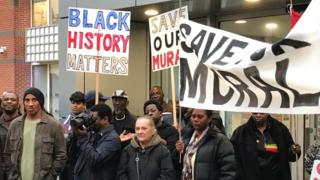 A councillor has accused a black community group of "irresponsible stirring up of racial tensions" over a campaign to save a building in Reading.
Community company Aspire offered to buy the derelict Central Club, which features a black history mural, but was turned down.
It then accused the council of putting profit before preserving the site.
But councillor Sophia James said the group was causing "incalculable harm to race relations...in Reading".
The London Street building, which was at the heart of the town's black community for about 40 years, was closed in 2006 following a police drugs raid.
Reading Borough Council put the site up for sale but rejected a bid from Aspire to pay a "fair market price" for the site and return it to its original use.
This prompted Aspire, which represents Reading's African and Caribbean residents, to accuse the council of preferring a commercial developer with larger funds over preserving a community hub.
It also claimed the mural would be under threat in the hands of developers, and organised a 100-strong march and a 4,000-signature petition in protest.
At a full council meeting, Aspire spokesman Keith Kerr said: "Why do you think a commercial developer has a right to take away from the community its spiritual home on the basis that you should get value for money?
"Every community group in Reading - Sikhs, Muslims, Polish, the Irish and even the Conservatives - have a place of their own. The only people who have not, even if they have the means to do it, is this community."
Ms James said "as a local resident, a councillor and a black woman" she was "passionate" about the celebration of black culture and reiterated that the council was "committed to protecting" the mural.
She added: "Let's talk about the undue distress that has been caused, the irresponsible stirring up of racial tensions.
"When you... suggest that this council doesn't care about black people... you cause incalculable harm to race relations and the black community in Reading.
"Frankly black people in this town deserve better."
Aspire said it would "continue to fight".