Family threatened with screwdrivers in Slough burglary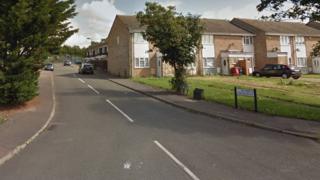 Four masked men armed with screwdrivers threatened a family and stole gold jewellery during a break-in.
Thames Valley Police said the aggravated burglary happened at about 19:15 BST on Monday in Severn Crescent, Brandshill.
A spokeswoman said the gang forced their way into the home of a woman in her 20s and pushed her to the ground.
Three children were told to get under a table or their mother would be hurt.
The woman was threatened with a screwdriver, and hit her head when she fell, as well as injuring her foot on a baby gate in the doorway.
The men stole Asian gold wedding jewellery and cash, then left and locked the family inside their home.
'Increased police presence'
All the suspects are white, were wearing black masks, and were carrying screwdrivers.
The first two suspects were about 20 to 22 years old. One was wearing a white shirt with a collar which had black dots on it, and dark trousers.
The third and fourth suspects were about 30 years old.
The woman attended Wexham Park Hospital and has since been discharged.
Det Con Zoe Batten: "It is believed the offenders used a silver saloon car - possibly a Mercedes - and I would like to speak to anyone who saw a car in the area.
"Residents in the area may see an increased presence of police officers locally while we conduct our enquiries."