Jason Manford visits ex-paratrooper walker whose challenge went viral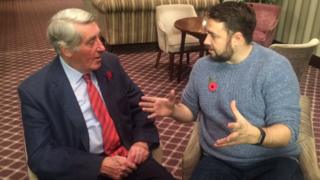 Comedian Jason Manford has visited a retired paratrooper who he helped to raise more than £100,000 for charity.
Details of 86-year-old Jeffrey Long's challenge to trek 86 miles along the Thames went viral on Tuesday after they were shared by Mr Manford on Facebook.
The pair met up at Oakwood Hall Hotel in Mr Long's hometown of Bingley, West Yorkshire, on Thursday evening.
Afterwards, Mr Manford described on Facebook how he had met "the man, the myth, the legend. Jeffrey!"
Mr Long's goal when he started walking "86 miles for 86 years" - from the Thames Barrier to Caversham in Reading - was to raise £1,000 for the Poppy Appeal.
He admitted that prior to this he had never heard of Jason Manford, but that they were now "buddies".
He told his story to a fellow train passenger, Paula Modeste, in Windsor ahead of the last stretch of his trek.
Ms Modeste shared a selfie of them together on Facebook, urging people to donate to his online fundraising page and explaining that the veteran was "not social media savvy".
The post went viral and caught the eye of Mr Manford, who urged his 1.5 million social media followers to help Mr Long reach his target, and posted a series of supportive messages throughout the day.
Ahead of their meeting, Mr Long told the BBC he had been tearful when he realised how much had been raised and was looking forward to saying thank you in person.
The comedian said he was paying the visit to "say well done for everything" after the school run and before a tour show.
"I think there's something like 15,000, 20,000 people who've got involved and raised money and... I think they want to see the end of the story almost; the full circle," he said.
Christine Chatfield, from the Royal British Legion, said the money would change the lives of the serving and former military personnel the charity supports.
"It was a huge surprise," she said. "We are extremely grateful to Jeffrey.
"He's amazing. He's done so many walks and raised so much money. But this is by far the most he has ever raised."