Construction begins on Reading prefab homeless housing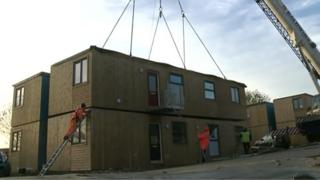 Construction has begun on pre-built homes which will be used as temporary accommodation for homeless families.
The development in Caversham, Berkshire, will provide 57 emergency homes for those who would otherwise live in bed and breakfasts.
Lorries transporting the 28 wooden units were driven from Hull to the former mobile home park on Friday.
The £1.86 million scheme has been delayed, but Reading council say homes will be available in January 2018.
Lead Member for Housing at the local authority John Ennis said: "There are thousands of people on our waiting lists who have very little chance of getting council houses or decent accommodation."
The development features seven timber-clad blocks of four units, each two storeys high, providing a mix of one and two bedroom flats along with three and four bedroom houses.
A children's play area, car parking and bike sheds are also being built.
Reading Borough Council claimed accommodation would initially be ready for people to move in during the autumn of 2017, but delays have forced that back to January 2018.
Mr Ennis added: "They really are nice places to live on a short term basis.
"We are trying to get resources to make some really decent accommodation for people while they wait to be re-housed."
However, the Local Government Authority claims temporary housing like this is not enough to make up the shortfall created by the right to buy scheme.
It said that since 2012 more than 54,000 homes were sold off, with just over 12,000 replacement homes being started.