British Museum plans new storage site near Reading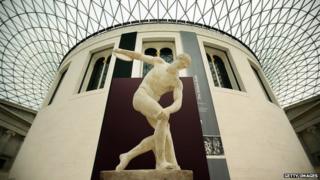 The British Museum is planning to move some of its ancient artefacts to a new building near Reading.
The museum is partnering with Reading University to build a new "storage and research" site on the university's science campus in Shinfield.
The building would be open to both academic and lay researchers.
If plans are approved the site will open in 2023 to coincide with the government sale of the current museum storage site at Blythe House, London.
Objects to be moved to the proposed British Museum Archaeological Research Collection at Thames Valley Science Park include sculptures from across the ancient world and "important" archaeological collections from Britain and beyond.
The new development is not meant as a second British Museum but will provide study rooms to give Reading University students, academics and members of the public access to the collections.
The museum said it also plans to work closely with local museums to lend objects from the study collection.
British Museum director Hartwig Fischer said he was "delighted" with the partnership and added that the new site would "ensure more access to the collection for study and loans".
The partnership said it would hold a public consultation in the new year before any planning application is submitted.