Plans passed to open strip club near nursery in Reading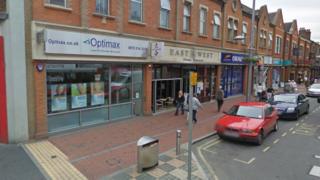 Plans for a new lap dancing club to open in Reading have been passed despite concerns of its proximity to a children's nursery and a church.
Reading Borough Council granted proposals to turn karaoke bar Kinky Koala in Friar Street into a strip club called Black Diamond.
Council officers had recommended the plans be refused and said the club would be "inappropriate" in the area.
The club will be open seven days a week between 21:00 and 04:00.
A member of the public objected to the licence application due to the club being "very close" to a "nursery, place of worship, shops, student accommodation and people's homes."
Greyfriars Church and Greyfriars Day Nursery are both located in the same road.
Thames Valley Police recommended dancers do not consume alcohol while working to "ensure that they are able to fully conduct themselves in the correct and professional manner".
'Cause for concern'
PC Simon Wheeler said another lap dancing club in the town had "minimal cause" for police intervention.
But he added the force had "cause for concern" in relation to "activities" by dancers "sitting on and touching customers".
He wrote: "Some incidents were reported where intoxicated customers were encouraged to pay exorbitant fees for dancers whilst they were so drunk they could not make considered decisions."
The applicants said "private dances" would start at £20 for three minutes and could go up to £400 to £500 for an hour.