PC James Dixon A4 crash: Tribute to 'perfect mum'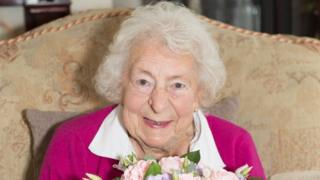 The daughter of a 91-year-old woman who died in a crash which also killed a police officer says she will be "completely lost without her".
Gladys Goodwin was in a car which collided with a motorcycle ridden by PC James Dixon, 39, on the A4 Bath Road in Wargrave, Berkshire, on Tuesday.
In a family tribute, Sandra Blunden said Mrs Goodwin had been "the perfect mum everybody would want".
"We were together nearly all hours of every day," she added.
The crash near Hare Hatch is being investigated by the Independent Police Complaints Commission.
Ms Blunden said her mother was a "fun loving jolly lady that everybody loved as soon as they met her".
"I will be completely lost without her," she added. "She was full of fun and laughter and never had a bad word to say."
The statement was released a day after the family of PC Dixon said they had lost "a fantastic husband, son, brother, friend and colleague".