Caravan self-defence shotgun killer jailed for firearm possession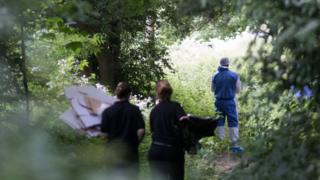 A man who shot dead a burglar in self-defence has been jailed for 10 months.
Reuben Gregory, 72, shot 48-year-old Wayne Digby with a double-barrelled shotgun after he tried to enter his static home near Colnbrook bypass, Slough, on 12 June.
He fired at him through a door while protecting himself and his sister.
He was sentenced at Reading Crown Court on Monday after pleading guilty to one count of possessing a shotgun without a certificate.
Mr Gregory was initially held on suspicion of murder but prosecutors deemed he was acting in self-defence.
A previous hearing was told Gregory had been woken in the early hours by the screams of his sister Kathleen, with whom he had shared a "frugal life" in a caravan, only accessible by footpath, since the 1960s.
After hearing a disturbance outside Gregory opened fire with a shotgun while his sister armed herself with a knife.
Gregory told officers that he bought the shotgun in the 1980s for self-defence after a previous break-in.
He claimed he had tried to get a certificate for the weapon but had been refused because the caravan was not deemed to be a secure place.
Digby's accomplice in the attempted burglary, Anthony Hearn, 48, was jailed for 10 years in November, having not been injured in the incident.
James Cable for the Crown Prosecution Service said: "Mr Gregory's assertion that he was acting in self-defence could not be disproved and it was found he did nothing more than was necessary to protect himself and his sister from intruders.
He added: "Gregory was not in legal possession of the shotgun he used, however, which is a very serious matter in itself and was the basis of this prosecution."