West Berkshire CAB 'will close' if funding cuts go ahead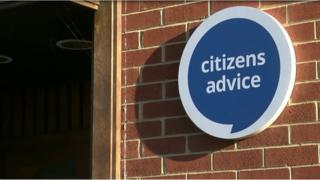 A Citizens Advice Bureau (CAB) has warned that it will not survive if a local council reduces its funding.
West Berkshire Council said it was consulting on a proposal to cut support for the charity's local office from £220,000 to £40,000 over three years.
The authority said the reductions were necessary in order to make savings of £10m next year.
The bureau's chief executive said further cuts "will have a direct impact on the people who use the services".
Jan Rothwell said that the body was "as efficient as it possibly could be" and that further cuts would mean the loss of staff.
'Nowhere to turn'
The local authority said it had offered office space within its buildings to help the charity.
West Berkshire CAB said the space was in a public area and would not allow employees to provide confidential advice to clients.
It has already moved to smaller premises as a result of previous cuts.
Phil Hawkins, a user of the CAB in West Berkshire, said it was "the only source of good advice" when his friend suffered financial difficulty.
He said "people will simply have nowhere to turn" if the consultation, which runs until the new year, is fully implemented.