Lottery millionaire to work at Slough care home on Christmas Day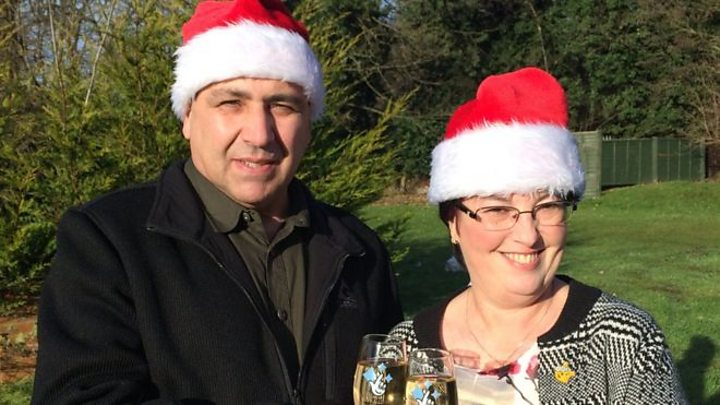 A care home worker who won £1 million on the lottery says she will still do her 12-hour Christmas Day shift.
Patricia Aldridge, 55, a care assistant from Wexham, near Slough, won the money after the Lotto draw on 9 December.
She was announced as a new millionaire on Tuesday, along with her husband Robert, 57, who described the winnings as "life-changing".
Mrs Aldridge said: "You hear people say 'if I won a lot of money I'd give up work', but I love what I do."
She discovered her new riches after checking an app on her phone.
"I rang Robert, and I said 'how many zeros are there in a million? I think I've won a million pounds,' said Mrs Aldridge.
'Same people'
She will continue to work at the elderly people's care home in Slough despite her millionaire raffle win, where she will do her 08:00 GMT to 20:00 GMT shift on 25 December.
Mr Aldridge, a site manager at a school, will also not be giving up work.
He said: "We'll still be the same people. I'm not giving up work, I'll still go out with my friends, I'll still do my crib night.
"It just makes us more secure knowing that we can help the children buy a house and that sort of thing."