PC James Dixon A4 crash witness appeal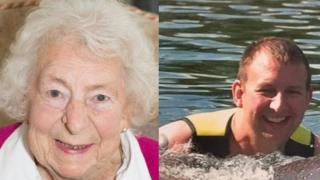 Drivers forced to stop by a crash which killed a police officer and elderly woman have been urged to come forward.
PC James Dixon, 39, and Gladys Goodwin, 91, died in the crash on the A4 Bath Road in Wargrave, Berkshire, at about 14:00 GMT on 5 December.
PC Dixon was riding a motorcycle and Mrs Goodwin was a passenger in a car.
The Independent Police Complaints Commission (IPCC) said it believed "many" drivers and passengers may have "vital information" about the crash.
IPCC Associate Commissioner Guido Liguori said investigators believed witnesses would have been in the "immediate vicinity" at the time.
He added: "Many would have been forced to stop their vehicles while the road was closed and I am appealing for them to come forward to the IPCC."
PC Dixon, who appeared in Sky TV programme Road Wars, was described as "a fantastic husband, son, brother, friend and colleague" after his death.
Mrs Goodwin's daughter paid tribute to her "perfect mum" and said she would be "lost without her".