MP Richard Benyon banned for texting while driving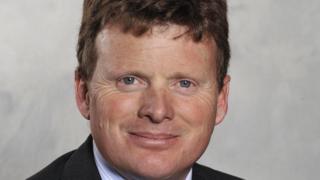 A Conservative MP who spoke out against using phones behind the wheel has been banned from driving for six months after being caught texting.
Richard Benyon was caught by police in April using his mobile in his BMW in Islington, north London.
The Newbury MP had previously been vocal on the topic after a deadly crash in his constituency last year.
Mr Benyon said he "deeply regretted his actions", adding there was "absolutely no excuse" for texting while driving.
He was given six penalty points, fined £306, and ordered to pay £115 in prosecution costs and a victim surcharge fee at Willesden Magistrates' Court.
He pleaded guilty to driving while using a mobile phone on Upper Street, Islington.
The former Parliamentary Under Secretary at the Department for Environment, Food and Rural Affairs (Defra) already had six points on his licence, meaning he was automatically disqualified from driving.
'Slow traffic'
Mr Benyon spoke out about using a phone while driving in a BBC interview in August, four months after he had been caught by police.
He was speaking a year after four people were killed on the A34 in Berkshire because a lorry driver, Tomasz Kroker, was using his phone.
He told BBC Radio Berkshire: "There are fairly strict - some people would say not strict enough - laws about using mobiles in cars and that is undoubtedly the reason this tragedy happened.
"It's not just the government's responsibility, or the police's, [to stop people using phones]. It's actually every single one of us, and I'd put myself in that category."
In a statement, Mr Benyon said that he entirely accepted the verdict of the court, even though, he was in "stationary and very heavy, slow traffic" when he was caught.
Using a mobile phone while driving now attracts six penalty points since the introduction of new legislation in March.