Pregnant woman dies after being hit by train at Slough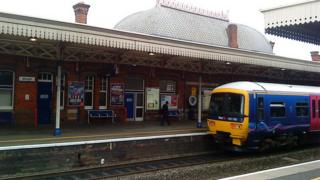 A pregnant woman has died after being hit by a train at Slough railway station, police have said.
Officers from British Transport Police were called to the scene at 08:51 GMT where they discovered the body of a woman.
The deceased has not yet been formally identified but family liaison officers are supporting her family.
The incident caused significant disruption to rail services between London Paddington and Reading.
All lines through Slough have now been reopened, having been closed for most of the morning.
Passenger Oliver Riley was on the train from Paddington that struck the woman.
He said: "[The delays] are inconvenient, but the circumstances are sad. Someone has had a much worse day than me."
Specialists are looking after the train driver and staff who saw the incident.
Investigations are still ongoing into the circumstances surrounding the woman's death, police said.
Dan Panes, from Great Western Railway told the BBC that "it will take some time" before all trains on the route are running to time.
He added: "There will be delays and potentially some cancellations as we work to get trains back into the right places."
Passenger Mark Coten said station staff "were very helpful" in dealing with the delays.
"They told me Paddington is log-jammed, but they said long distance services would be prioritised, so I'm hopeful."