Reading shipping container market plan gets green light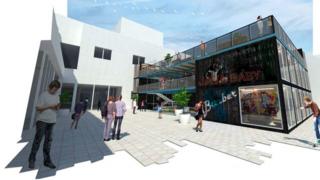 Plans to create a market and music venue from stacked shipping containers in Reading has been approved after the idea for a rooftop bar was dropped.
Police had opposed the scheme on South Court over fears it would drive up crime in an already problematic area.
The rooftop will no longer be used as a live music venue and the temporary structure will serve only as a market.
The council said the amended proposal will improve an area in decline and "signal future regeneration".
Thames Valley Police remain concerned about anti-social behaviour which they say is prevalent in the location and the concept of the temporary structure as a whole.
But the council believes Broad Street Mall owner Inception Holdings has made "good progress" in responding to those concerns and "feel that the scheme could enhance this part of the town centre".
The market, constructed from 16 shipping containers across two and three storeys, is intended to give small businesses, artists and traders more opportunities.
The original proposal suggested the development would be similar to the Krynkl in Sheffield and Boxpark in Shoreditch, London.
The temporary structure could remain for up to five years and is part of a wider scheme by Inception Holdings which has spent more than £5m revamping Broad Street Mall since 2015.