Calcot police car crash: Two women die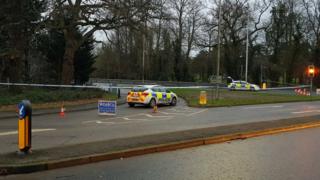 Two elderly women were killed when their car collided with an unmarked police car responding to a 999 call.
The two women, aged 87 and 88, were believed to be turning into the A4 from Calcot Golf club, Reading, when their car collided with the 4x4 vehicle which had its blue lights on.
Police shut the road for several hours after Tuesday's crash at 16:00 GMT.
The Independent Office for Police Conduct said it was looking at whether the police car's siren had been on.
It said it was examining "onboard data" from the 4x4.
The officer and police dog in the Thames Valley Police vehicle are not thought to have been injured.
The families of the women, both from Slough, are receiving support, according to a statement from Thames Valley Police on Twitter.
Neville Taylor, who lives on Calcot Golf course, about 20ft away from where the crash took place, said he heard the collision and saw the aftermath.
He told the BBC: "I was sitting there reading the paper and I heard bang.
"I didn't think too much of it because we have got speed bump outside our house and when a big vehicle goes over it it bangs anyway, so I thought it was that.
"I went upstairs and looked out the window and we could see five or six police cars, a couple of ambulances, and as I was looking, the fire engine turned up and [the crash scene] was pretty bad.
"Then someone was taken into the ambulance and saw them giving them CPR so we knew it was serious."