Slough £67m housing boost for struggling families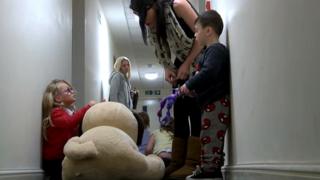 A council is investing £66.7m to buy properties to let out at an "affordable level" to struggling families.
Currently Slough Borough Council uses accommodation such as bed and breakfast to house homeless families.
The authority said 389 families in the borough had been identified as at risk of homelessness this year, partly due to Crossrail and the private rental sector pushing up house prices.
In 2016 Slough had the fastest-rising house prices in the UK.
The council plans to secure 80 homes through one of its housing companies for people at risk.
Council leader James Swindlehurst said the authority wanted "to be proactive, not reactive".
The £18m invested this year forms part of a five-year plan to buy up properties - on average about 70 a year - to help "local people who are being priced out of their accommodation" due to "rising prices in the private sector".