Mother crushed to death in Ascot car park, inquest told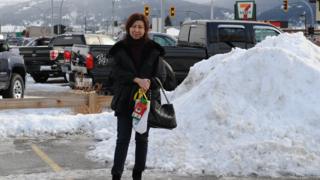 A parent died after she was crushed by a reversing vehicle in her son's school car park, an inquest heard.
Caixia Sun, 50, of Sunningdale, Ascot, was hit by a Ford Galaxy in the grounds of Sunningdale's Boys' School on 5 November 2015.
Reading Coroner's Court heard how provisional driver Melvin Owusu Ansah "lost control" of the automatic vehicle, which reversed and crushed Mrs Sun against her parked Ford Focus.
The jury heard she died at the scene.
Witnesses of the crash described hearing a "massive smash" before seeing the Galaxy had reversed into the Focus.
Parent Annabel Barratt said in a statement she heard a "loud revving noise", then a "massive smash, a loud smashing of metal together".
The court heard how Mr Owusu Ansah got out of the school-owned vehicle looking "agitated and very distressed" and "took sometime to compose himself" after he was informed at the scene of Mrs Sun's death.
'Provisional licence'
In police interview Mr Owusu Ansah, 19 at the time, said he tried to select the park gear on the automatic, but it would not go.
PC Mark Dunn said: "I asked Melvin who gave him permission to drive the car, he replied 'I told my head chef I was taking the car back and he said OK'.
"Asked what driving licence he had, he replied 'provisional'."
The court heard how the Galaxy had been used by staff at the private preparatory boarding school to transport catering equipment and food for a bonfire night display.
Tony Reading, a forensic collision investigator, told the jury the crash was one of "unintended acceleration".
He added the "novice" driver "selected reverse instead of park" and had pressed the accelerator pedal in error instead of braking.
Case investigators found the Galaxy had no defects which were believed to have contributed to the collision.
The court heard from witnesses who claimed Mr Owusu Ansah had driven the Galaxy on a previous occasion before the collision.
Dr Fegan-Early said Mrs Sun died from a "massive head trauma" and that her death "would have been near instantaneous".
The inquest will last five days.