Caixia Sun inquest: Boss 'lied' about driving permission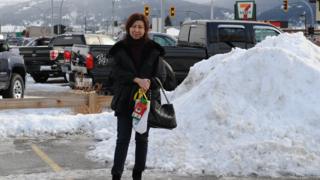 A school head chef told a "sophisticated lie" about events that led to a pupil's mother being crushed to death by a car, an inquest heard.
Caixia Sun, 50, of Sunningdale, Ascot, was hit by a Ford Galaxy in the grounds of Sunningdale School on 5 November 2015.
Kitchen porter Melvin Owusu Ansah, who held a provisional driving licence, was driving the vehicle.
His boss Darren Appleby said he had not instructed him to drive it.
He told Reading Coroner's Court: "The van sped away really quickly and I tried to flag him down and say ''oi, come back' but he proceeded to go and park the van".
The inquest heard Mr Appleby initially told police Mr Owusu Ansah, then aged 19, had asked if he could move the people carrier to the car park and he had told him "OK".
But when interviewed by the Health and Safety Executive seven months later, Mr Appleby said he had responded "no, no".
Counsel for Mr Sun's family, Robert Wastell, said to the head chef: "What you just told the coroner is an obvious and sophisticated lie".
Mr Owusu Ansah said in a written statement after the incident that he "regretted accepting a request" to park the vehicle, but said he "felt obliged to help on that evening".
He had driven the Galaxy on a previous occasion before the collision, the inquest was told.
Giving evidence, Mr Owusu Ansah said he was "overwhelmingly full of remorse and regret" over the death of the mother of two.
He added: "I can't express how sorry I am to Mrs Sun's family."
Explaining the events of the crash he said: "I tried to put the car into the park position and it wouldn't go, then my foot went onto the gas."
He added the car was then propelled backwards "really fast" and was out of his control.
Mrs Sun died from a "massive head trauma" and her death "would have been near instantaneous", the court heard.
The inquest will last until Friday.